European Court of Human Rights
---
You are here:
BAILII
>>
Databases
>>
European Court of Human Rights
>> GOSPODARCZYK v. POLAND - 6134/03 [2009] ECHR 290 (17 February 2009)
URL:
http://www.bailii.org/eu/cases/ECHR/2009/290.html
Cite as: [2009] ECHR 290
---
[
New search
] [
Contents list
] [
Printable RTF version
] [
Help
]
---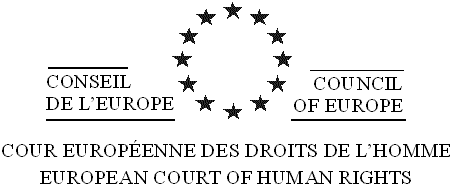 FOURTH SECTION
CASE OF GOSPODARCZYK v. POLAND
(Application no. 6134/03)
JUDGMENT
STRASBOURG
17 February 2009
This judgment will become final in the circumstances set out in Article 44 § 2 of the Convention. It may be subject to editorial revision.
In the case of Gospodarczyk v. Poland,
The European Court of Human Rights (Fourth Section), sitting as a Chamber composed of:
Nicolas Bratza, President,
Lech Garlicki,
Giovanni Bonello,
Ljiljana Mijović,
Ján Šikuta,
Mihai Poalelungi,
Nebojša Vučinić, judges,
and Lawrence Early, Section Registrar,
Having deliberated in private on 27 January 2009,
Delivers the following judgment, which was adopted on that date:
PROCEDURE
THE FACTS
I. THE CIRCUMSTANCES OF THE CASE
"Pursuant to Article 113 § 1 of the Code of Civil Procedure exemption from court fees may be sought by a party who is unable to bear them without entailing a substantial reduction in his or her standard of living. The plaintiff does not satisfy this requirement. It is evident to the court that the plaintiff has a substantially higher income than the declared pension which he knowingly does not disclose, in that his retail outlet and his van must generate profits. These profits must be substantial because otherwise he could not have a cooperative flat and three other properties and could not invest nearly PLN 100,000 in other business projects and maintain them. The plaintiff continuously conceals his real profits and they are substantial, because nobody could believe that he lives on PLN 200 per month.
Exemption from court fees is a privilege serving to legally protect the indigent, and the plaintiff is a very affluent person in Polish terms".
"The appeal should be considered unfounded. In particular, the first-instance court was right when holding that the applicant's declaration of means was unreliable. In that declaration of means the applicant did not state, inter alia, that he was conducting a business activity, and he explained that circumstance only in the appeal proceedings. It is also not difficult to notice the differences between the applicant's declared income and the value of his assets. It is a well-established principle in the case-law that being an owner of a[n immovable] property excludes the possibility of granting exemption from court fees (judgments of the Supreme Court of 23 October 1934, no. C II 1441/34 and of 1 February 1937, no. C II 2379/36).
The applicant can pay the court fees for his action since he has considerable assets and given that he has recently, as he claims, invested PLN 124,000 in one of his properties. What is more, the fact at the origin of the dispute, namely that the property acquired by the applicant from the municipality is in fact smaller than declared in a notarial deed, has been known to the applicant since 1999. Thus, he could have made savings with a view to funding his litigation."
II. RELEVANT DOMESTIC LAW AND PRACTICE
THE LAW
I. ALLEGED VIOLATION OF ARTICLE 6 § 1 OF THE CONVENTION
"In the determination of his civil rights and obligations ..., everyone is entitled to a ... hearing ... by [a] ... tribunal established by law. ..."
A. Admissibility
B. Merits
1. The parties' submissions
(a) The applicant
He further could not have been asked to sell his property as it would have been detrimental to the maintenance of his family.
(b) The Government
2. The Court's assessment
(a) Principles deriving from the Court's case-law
(b) Application of the above principles to the present case
FOR THESE REASONS, THE COURT UNANIMOUSLY
Done in English, and notified in writing on 17 February 2009, pursuant to Rule 77 §§ 2 and 3 of the Rules of Court.
Lawrence Early Nicolas Bratza
Registrar President