European Court of Human Rights
---
You are here:
BAILII
>>
Databases
>>
European Court of Human Rights
>> IPEK AND OTHERS v. TURKEY - 17019/02 [2009] ECHR 188 (3 February 2009)
URL:
http://www.bailii.org/eu/cases/ECHR/2009/188.html
Cite as: [2009] ECHR 188
---
[
New search
] [
Contents list
] [
Printable RTF version
] [
Help
]
---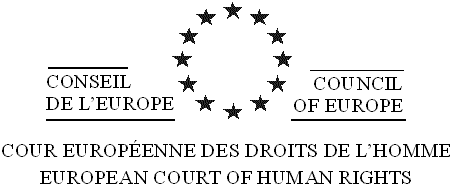 SECOND SECTION
CASE OF İPEK AND OTHERS v. TURKEY
(Applications nos. 17019/02 and 30070/02)
JUDGMENT
STRASBOURG
3 February 2009
This judgment will become final in the circumstances set out in Article 44 § 2 of the Convention. It may be subject to editorial revision.
In the case of İpek and Others v. Turkey,
The European Court of Human Rights (Second Section), sitting as a Chamber composed of:
Françoise Tulkens, President,
Ireneu Cabral Barreto,
Vladimiro Zagrebelsky,
Danutė Jočienė,
András Sajó,
Nona Tsotsoria,
Işıl Karakaş, judges,
and Sally Dollé, Section Registrar,
Having deliberated in private on 13 January 2009,
Delivers the following judgment, which was adopted on that date:
PROCEDURE
THE FACTS
I. THE CIRCUMSTANCES OF THE CASE
II. RELEVANT DOMESTIC AND INTERNATIONAL LAW AND PRACTICE
A. Domestic law and practice
B. Relevant international material
"15. Where juveniles are detained in police custody, account should be taken of their status as a minor, their age and their vulnerability and level of maturity. They should be promptly informed of their rights and safeguards in a manner that ensures their full understanding. While being questioned by the police they should, in principle, be accompanied by their parent/legal guardian or other appropriate adult. They should also have the right of access to a lawyer and a doctor. They should not be detained in police custody for longer than forty-eight hours in total and for younger offenders every effort should be made to reduce this time further. The detention of juveniles in police custody should be supervised by the competent authorities. "
19. Article 37 of the Convention on the Rights of the Child (CRC), in so far as relevant, reads as follows:
"States Parties shall ensure that: ...
(b) No child shall be deprived of his or her liberty unlawfully or arbitrarily. The arrest, detention or imprisonment of a child shall be in conformity with the law and shall be used only as a measure of last resort and for the shortest appropriate period of time;
(d) Every child deprived of his or her liberty shall have the right to prompt access to legal and other appropriate assistance, as well as the right to challenge the legality of the deprivation of his or her liberty before a court or other competent, independent and impartial authority, and to a prompt decision on any such action."
THE LAW
I. ALLEGED VIOLATION OF ARTICLE 5 OF THE CONVENTION
"1. Everyone has the right to liberty and security of person. No one shall be deprived of his liberty save in the following cases and in accordance with a procedure prescribed by law: ...
(c) the lawful arrest or detention of a person effected for the purpose of bringing him before the competent legal authority on reasonable suspicion of having committed an offence or when it is reasonably considered necessary to prevent his committing an offence or fleeing after having done so; ...
3. Everyone arrested or detained in accordance with the provisions of paragraph 1 (c) of this Article shall be brought promptly before a judge or other officer authorised by law to exercise judicial power and shall be entitled to trial within a reasonable time or to release pending trial. Release may be conditioned by guarantees to appear for trial.
4. Everyone who is deprived of his liberty by arrest or detention shall be entitled to take proceedings by which the lawfulness of his detention shall be decided speedily by a court and his release ordered if the detention is not lawful.
5. Everyone who has been the victim of arrest or detention in contravention of the provisions of this Article shall have an enforceable right to compensation."
A. Admissibility
B. Merits
1. Article 5 § 1
2. Article 5 § 3
3. Article 5 § 4
4. Article 5 § 5
II. OTHER ALLEGED VIOLATIONS OF THE CONVENTION
III. APPLICATION OF ARTICLE 41 OF THE CONVENTION
"If the Court finds that there has been a violation of the Convention or the Protocols thereto, and if the internal law of the High Contracting Party concerned allows only partial reparation to be made, the Court shall, if necessary, afford just satisfaction to the injured party."
A. Damage
B. Costs and expenses
C. Default interest
FOR THESE REASONS, THE COURT UNANIMOUSLY
(a) that the respondent State is to pay the applicants, within three months from the date on which the judgment becomes final in accordance with Article 44 § 2 of the Convention, the following amounts, to be converted into Turkish liras at the rate applicable at the date of settlement:
i) EUR 1,500 (one thousand five hundred euros) each to Mr İpek and Mr Demirel and EUR 1,000 (one thousand euros) to Mr Özpamuk, plus any tax that may be chargeable, in respect of non pecuniary damage;
ii) EUR 2,000 (two thousand euros) jointly, plus any tax that may chargeable to the applicants, for costs and expenses;
(b) that from the expiry of the above-mentioned three months until settlement simple interest shall be payable on the above amounts at a rate equal to the marginal lending rate of the European Central Bank during the default period plus three percentage points;
Done in English, and notified in writing on 3 February 2009, pursuant to Rule 77 §§ 2 and 3 of the Rules of Court.
Sally Dollé Françoise Tulkens
Registrar President