European Court of Human Rights
---
You are here:
BAILII
>>
Databases
>>
European Court of Human Rights
>> TEBIETI MUHAFIZE CEMIYYETI AND ISRAFILOV v. AZERBAIJAN - 37083/03 [2009] ECHR 1473 (8 October 2009)
URL:
http://www.bailii.org/eu/cases/ECHR/2009/1473.html
Cite as: [2009] ECHR 1473
---
[
New search
] [
Contents list
] [
Printable RTF version
] [
Help
]
---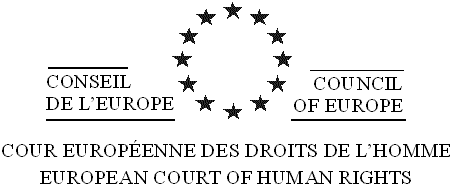 FIRST SECTION
CASE OF TEBIETI MÜHAFIZE CEMIYYETI AND ISRAFILOV
v. AZERBAIJAN
(Application no. 37083/03)
JUDGMENT
STRASBOURG
8 October 2009
This judgment will become final in the circumstances set out in Article 44 § 2 of the Convention. It may be subject to editorial revision.
In the case of Tebieti Mühafize Cemiyyeti and Israfilov v. Azerbaijan,
The European Court of Human Rights (First Section), sitting as a Chamber composed of:
Nina Vajić, President,
Anatoly Kovler,
Elisabeth Steiner,
Khanlar Hajiyev,
Dean Spielmann,
Sverre Erik Jebens,
Giorgio Malinverni, judges,
and André Wampach, Deputy Section Registrar,
Having deliberated in private on 17 September 2009,
Delivers the following judgment, which was adopted on that date:
PROCEDURE
THE FACTS
I. THE CIRCUMSTANCES OF THE CASE
A. The Association's objects and management structure
"... in the circumstances of the present-day environmental crisis, to develop the environmental culture and awareness of the various strata of the country's population, to organise a public movement for a clean environment in Azerbaijan, to give impetus to the process of effective resolution of environmental protection problems, and to strive permanently to promote the measures necessary to create a healthier environment."
B. Warnings issued by the Ministry of Justice
"However, contrary to these legal requirements, the Association ... attempts to collect money from State organs and commercial organisations in the guise of membership fees, regularly conducts [unlawful] inspections at economic enterprises and draws up [environmental compliance] reports, and engages in other illegal acts interfering with the rights of entrepreneurs ..."
C. Dissolution of the Association
II. RELEVANT DOMESTIC LAW
A. Civil Code of 2000
Article 59. Dissolution of a legal entity
"59.2. A legal entity may be dissolved: ...
59.2.3. by a court order, if the legal entity engages in activities without the required permit (license) or in activities prohibited by law, or if it otherwise commits repeated or grave breaches of law, or if a public association or foundation systematically engages in activities that are contrary to the aims set out in its by-laws, as well as in other cases provided by law.
59.3. A request to dissolve the legal entity under the grounds specified in Article 59.2 of this Code may be lodged by the relevant State authority or local self-administration authority, to which the right to lodge such a request is granted by law. ..."
B. Law on Non-Governmental Organisations (Public Associations and Foundations) of 13 June 2000 ("NGO Act")
Article 1. Objectives of this Law
"1.1. This Law regulates the relations concerning the establishment and functioning of public associations and foundations.
1.2. The definition of "non-governmental organisation" in this Law includes public associations and foundations.
1.3. This Law determines the rules for the establishment, activity, reorganisation and dissolution of non-governmental organisations, as well as their functioning, management, and relations with government bodies.
1.4. This Law does not apply to political parties, trade unions, religious organisations, local self-administration authorities and non-governmental organisations which are regulated by other laws."
34. Chapter V (Articles 25-27) contains rules on the management of non-governmental organisations. Article 25.1 provides that the internal structure of a public association, the powers of its governing bodies, their formation procedure and term of office and the rules on decision-making and representing the association shall be regulated by the public association's charter, subject to the conditions set out in the NGO Act and other relevant legal provisions. In particular, the supreme governing body of a public association is the general assembly of members, to be convened not less than once a year, upon the initiative of the associations's executive body, one of its founders or one third of its members (Articles 25.2-25.3). The general assembly decides upon, inter alia, the following issues: (1) adoption of and amendments to the association's charter; (2) use of the association's property; (3) election of the association's other governing bodies and early termination of their office; (4) approval of the annual report, etc. (Article 25.5). The founders and members of the public association must be informed of the date and place of the general assembly at least two weeks in advance. Amendments to the association's charter may be made only if the quorum of more than half of the association members is present. Decisions are adopted by a majority of votes of the participating members. Each member has one vote (Article 25.6). It is required to keep written minutes of the general assembly, which shall be signed by the assembly's president and secretary and, if necessary, distributed to all members (Article 25.7).
35. Article 31 provides:
Article 31. Liability of a non-governmental organisation
"31.1. A non-governmental organisation that breaches the requirements of this Law shall be liable in accordance with the laws of the Republic of Azerbaijan.
31.2. If a non-governmental organisation commits actions incompatible with the objectives of this Law, the relevant executive authority [the Ministry of Justice] may issue a written warning to the organisation and give an instruction to remedy such breaches.
31.3. A non-governmental organisation may judicially challenge such warning or instruction.
31.4. If a non-governmental organisation receives, within one year, more than two written warnings or instructions to remedy the breaches of law, such organisation may be dissolved pursuant to a court order."
C. Other legal provisions
III. RELEVANT DOCUMENTS OF THE COUNCIL OF EUROPE
"... 44. The legal personality of NGOs can only be terminated pursuant to the voluntary act of their members – or in the case of non-membership-based NGOs, its governing body – or in the event of bankruptcy, prolonged inactivity or serious misconduct. ...
46. The persons responsible for the management of membership-based NGOs should be elected or designated by the highest governing body or by an organ to which it has delegated this task. The management of non-membership-based NGOs should be appointed in accordance with their statutes.
47. NGOs should ensure that their management and decision-making bodies are in accordance with their statutes but they are otherwise free to determine the arrangements for pursuing their objectives. In particular, NGOs should not need any authorisation from a public authority in order to change their internal structure or rules.
48. The appointment, election or replacement of officers, and ... the admission or exclusion of members should be a matter for the NGOs concerned. ...
67. The activities of NGOs should be presumed lawful in the absence of contrary evidence.
68. NGOs can be required to submit their books, records and activities to inspection by a supervising agency where there has been a failure to comply with reporting requirements or where there are reasonable grounds to suspect that serious breaches of the law have occurred or are imminent. ...
70. No external intervention in the running of NGOs should take place unless a serious breach of the legal requirements applicable to NGOs has been established or is reasonably believed to be imminent. ...
72. In most instances, the appropriate sanction against NGOs for breach of the legal requirements applicable to them (including those concerning the acquisition of legal personality) should merely be the requirement to rectify their affairs and/or the imposition of an administrative, civil or criminal penalty on them and/or any individuals directly responsible. Penalties should be based on the law in force and observe the principle of proportionality. ...
74. The termination of an NGO ... should only be ordered by a court where there is compelling evidence that the grounds specified in paragraph 44 ... above have been met. Such an order should be subject to prompt appeal."
IV. COMPARATIVE LAW
40. A comparative study of the relevant legislation of 25 out of 47 member States of the Council of Europe shows that an NGO can be membership-based or non-membership-based and can take a variety of legal forms applicable in the domestic legal order, such as an association, foundation, trust, charity or even company. A key factor in determining the level of scrutiny and control that an NGO will be subjected to is whether the body concerned is legally incorporated and enjoys legal personality. Normally, unincorporated associations enjoy a much wider scope of self management and are not interfered with unless they conduct activities which are illegal or prejudicial to public order. Legally incorporated NGOs, on the other hand, are often subject to more narrowly delimited rules and may be dissolved or face other sanctions in the event of non-compliance.
41. It appears that in a number of States an NGO can, in certain circumstances, be dissolved either, specifically, for failure to conduct its internal management in accordance with the requirements of domestic law or, more generally, for failure to comply with its own charter. Countries within this category include: (i) Austria, where an association can be dissolved by a decision of a competent public authority if, inter alia, it exceeds its field of activity or if it no longer fulfils its own statutory rules; (ii) the Czech Republic, where foundations, endowment funds and public benefit corporations can be dissolved by a court for failure to comply with their charter or the domestic law (however, associations cannot be dissolved for failure to conduct their internal management); (iii) Finland, where a court may on the basis of an action brought by the relevant public authority or an association member dissolve an association if it acts substantially against the law or substantially against the purpose defined for it in its rules; (iv) Hungary, where the courts may declare the dissolution of a civil society organisation if it has failed to operate for at least one year, or the number of its members is permanently below the number determined by law; (v) Italy, where the competent governmental authorities may dissolve foundations in the event that they are not conducted in a lawful manner and in conformity with their by-laws; (vi) Luxembourg, where associations may be dissolved for failure to comply with the objectives which they have assumed, or if they have gravely contravened their constitutive statute or the law; and foundations can be dissolved if they are no longer able to pursue the object for which they were created; (vii) Malta, where a voluntary organisation may be struck off the register of voluntary organisations and/or issued with a suspension order potentially permanently suspending all or part of its activities, if the organisation in question is not complying with the provisions of its statute or the relevant domestic law; (viii) the Netherlands, where a regional court can dissolve an association or foundation, inter alia, if its statutes do not fulfil the requirements of the law or if it acts substantially contrary to its own Articles; (ix) Poland, where the courts can, in situations where associations are found to be acting contrary to the law or infringing the provisions of their own charter, order their dissolution; (x) Romania, where the relevant law provides that an association's failure to convene its general assembly or board of directors for more than one year results in its de jure dissolution; (xi) Russia, where an association may be dissolved if it repeatedly and seriously violates the requirements of the applicable domestic law; (xii) Slovakia, where courts can decide to dissolve non-profit organisations, foundations, non-investment funds and associations for contraventions of the applicable domestic law as regards their internal management; and (xiii) Turkey, where the Civil Code provides that associations can be dissolved for, inter alia, failure to compose the internal bodies required by law, hold their first general assembly meetings within the time-limits prescribed by law or to hold subsequent general assembly meetings regularly.
THE LAW
I. ALLEGED VIOLATION OF ARTICLE 11 OF THE CONVENTION
"1. Everyone has the right to freedom of peaceful assembly and to freedom of association with others, including the right to form and to join trade unions for the protection of his interests.
2. No restrictions shall be placed on the exercise of these rights other than such as are prescribed by law and are necessary in a democratic society in the interests of national security or public safety, for the prevention of disorder or crime, for the protection of health or morals or for the protection of the rights and freedoms of others. This Article shall not prevent the imposition of lawful restrictions on the exercise of these rights by members of the armed forces, of the police or of the administration of the State."
A. The parties' submissions
B. The Court's assessment
1. General principles in the Court's case-law on freedom of association
2. Whether there was interference
3. Whether the interference was justified
(a) "Prescribed by law"
(b) Legitimate aim
(c) "Necessary in a democratic society"
(i) General principles
(ii) Application of these principles to the present case
(α) Breach of the legal requirements on internal management
(β) Engagement in "activities prohibited by law"
(γ) Conclusion
II. ALLEGED VIOLATION OF ARTICLE 6 § 1 OF THE CONVENTION
"In the determination of his civil rights and obligations ... everyone is entitled to a fair ... hearing ... by [a] ... tribunal ..."
III. APPLICATION OF ARTICLE 41 OF THE CONVENTION
"If the Court finds that there has been a violation of the Convention or the Protocols thereto, and if the internal law of the High Contracting Party concerned allows only partial reparation to be made, the Court shall, if necessary, afford just satisfaction to the injured party."
A. Damage
1. Pecuniary damage
2. Non-pecuniary damage
B. Costs and expenses
C. Default interest
FOR THESE REASONS, THE COURT UNANIMOUSLY
(a) that the respondent State is to pay the applicants, within three months from the date on which the judgment becomes final in accordance with Article 44 § 2 of the Convention, the following amounts, to be converted into New Azerbaijani manats at the rate applicable at the date of settlement:
(i) EUR 8,000 (eight thousand euros), plus any tax that may be chargeable, in respect of non-pecuniary damage;
(ii) EUR 2,000 (two thousand euros), less EUR 850 (eight hundred and fifty euros) granted by way of legal aid, plus any tax that may be chargeable to the applicants, in respect of costs and expenses;
(b) that from the expiry of the above-mentioned three months until settlement simple interest shall be payable on the above amounts at a rate equal to the marginal lending rate of the European Central Bank during the default period plus three percentage points;
Done in English, and notified in writing on 8 October 2009, pursuant to Rule 77 §§ 2 and 3 of the Rules of Court.
André Wampach Nina Vajić
Deputy Registrar President