European Court of Human Rights
---
You are here:
BAILII
>>
Databases
>>
European Court of Human Rights
>> VERAART v. THE NETHERLANDS - 10807/04 [2006] ECHR 1018 (30 November 2006)
URL:
http://www.bailii.org/eu/cases/ECHR/2006/1018.html
Cite as: 46 EHRR 53, (2008) 46 EHRR 53, [2006] ECHR 1018
---
[
New search
] [
Contents list
] [
Printable RTF version
] [
Help
]
---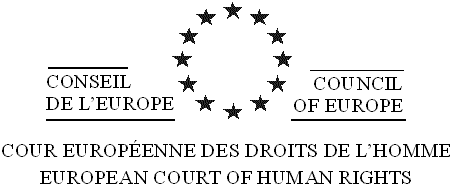 THIRD SECTION
CASE OF VERAART v. THE NETHERLANDS
(Application no. 10807/04)
JUDGMENT
STRASBOURG
30 November 2006
This judgment will become final in the circumstances set out in Article 44 § 2 of the Convention. It may be subject to editorial revision.
In the case of Veraart v. the Netherlands,
The European Court of Human Rights (Third Section), sitting as a Chamber composed of:
Mr B.M. Zupančič, President,
Mr C. Bîrsan,
Mr V. Zagrebelsky,
Mr David Thór Björgvinsson,
Mrs I. Ziemele,
Mrs I. Berro-Lefevre, judges,
Mr P. van Dijk, ad hoc judge,
and Mr V. Berger, Section Registrar,
Having deliberated in private on 9 November 2006,
Delivers the following judgment, which was adopted on that date:
PROCEDURE
THE FACTS
I. THE CIRCUMSTANCES OF THE CASE
A. Background to the case
1. The NCRV television documentary
2. Criminal proceedings against the NCRV
3. The AVRO radio programme
"Here we are faced with a dangerous group of individuals who ... [though] unproved, nonetheless present, er, a horrible crime. I mean, we're talking about five infanticides, we're not talking about nothing. ... all right, three murders, one abortion and one child allegedly sold, whatever, it's a terrible accusation and you can't just do that. That should not go unpunished."
The interviewer explained that the reference was to
"... alternative therapies such as hypnosis and regression therapy ..."
going on to say:
"The alternative therapist who was treating [Ms A.K.] at the time was Mr Kieft. He actually does believe in recovered memories, and therefore also in the recollection of incest and of quadruple infanticide."
"So, Mr Kieft can sense and see whether people have been sexually abused."
The applicant responded, saying, among other things:
"I can't understand how he, how he can do that! To me, that shows how dangerous these therapists are. Someone like that shouldn't, should not be allowed to be a therapist surely? That man, he lives in North Holland province, he should, er, grow cabbages for the market ... He should go and grow cabbages out there, but he should absolutely not be working with with with patients, or with people who who are in emergency situations. I find this very worrying. I consider this very unprofessional. It's possible of course [that] these people are magi (magiërs), that has nothing to do with therapists, nothing to do with doctors. They take people back in regression therapy. Where was that man educated? Where did that man study? I have no idea, and what does he presume to be? That man likens himself to God. There is no medical practitioner, surely, who could say that?"
"... I just can't imagine how anyone can be so presumptuous as to tell two vulnerable old people, like some sort of guru, and, er, his truth, and then give them an audio tape and tell them: well, go and listen carefully to what I have said. Such arrogance. In my opinion it's quite terrible. Well, if you know that father K. died shortly after that, he went to his grave accused by him, right, accused by a relative ..."
B. Disciplinary proceedings against the applicant
1. The Dean of the Bar Association
2. The Disciplinary Council
3. The Disciplinary Appeals Tribunal
C. Civil proceedings
II. RELEVANT DOMESTIC LAW
"1. No one shall require prior permission to make public thoughts or feelings (gedachten of gevoelens) in printed form, the individual responsibility of everyone under the law notwithstanding.
2. There shall be statutory rules governing radio and television. There shall be no prior control of the content of a radio or television broadcast.
3. No one shall require prior permission to make public thoughts or feelings in any other way than those mentioned in the preceding paragraphs, the individual responsibility of everyone under the law notwithstanding. ...
4. The preceding paragraphs are not applicable to commercial advertising."
"Advocates shall be subject to disciplinary proceedings regarding any act or omission which is in breach of the due care they ought to exercise as advocates vis à vis those whose interests they look after, or ought to look after, any breach of the Regulations of the National Bar, and any act or omission not befitting a respectable advocate (enig handelen of nalaten dat een behoorlijk advocaat niet betaamt). This disciplinary justice shall be dispensed at first instance by the Disciplinary Councils, and, on appeal, by the Disciplinary Appeals Tribunal, which shall also be the highest instance."
Rule 1
"Advocates should conduct themselves in such a way that confidence in the profession or in their own exercise of the profession is not diminished."
Rule 31
"Advocates should not express themselves, either orally or in writing, in a way that is unnecessarily wounding."
THE LAW
I. ALLEGED VIOLATION OF ARTICLE 10 OF THE CONVENTION
"1. Everyone has the right to freedom of expression. This right shall include freedom to hold opinions and to receive and impart information and ideas without interference by public authority and regardless of frontiers. This Article shall not prevent States from requiring the licensing of broadcasting, television or cinema enterprises.
2. The exercise of these freedoms, since it carries with it duties and responsibilities, may be subject to such formalities, conditions, restrictions or penalties as are prescribed by law and are necessary in a democratic society, in the interests of national security, territorial integrity or public safety, for the prevention of disorder or crime, for the protection of health or morals, for the protection of the reputation or rights of others, for preventing the disclosure of information received in confidence, or for maintaining the authority and impartiality of the judiciary."
A. Admissibility
B. Merits
1. Argument before the Court
a. The Government
b. The applicant
2. The Court's assessment
"88. The test of 'necessity in a democratic society' requires the Court to determine whether the interference complained of corresponded to a 'pressing social need'. The Contracting States have a certain margin of appreciation in assessing whether such a need exists, but it goes hand in hand with European supervision, embracing both the legislation and the decisions applying it, even those delivered by an independent court. The Court is therefore empowered to give the final ruling on whether a 'restriction' is reconcilable with freedom of expression as protected by Article 10 (...).
89. The Court's task in exercising its supervisory function is not to take the place of the competent domestic courts but rather to review under Article 10 the decisions they have taken pursuant to their power of appreciation (...). This does not mean that the supervision is limited to ascertaining whether the respondent State exercised its discretion reasonably, carefully or in good faith; what the Court has to do is to look at the interference complained of in the light of the case as a whole, including the content of the comments held against the applicants and the context in which they made them (...).
90. In particular, the Court must determine whether the reasons adduced by the national authorities to justify the interference were 'relevant and sufficient' and whether the measure taken was 'proportionate to the legitimate aims pursued' (...). In doing so, the Court has to satisfy itself that the national authorities, basing themselves on an acceptable assessment of the relevant facts, applied standards which were in conformity with the principles embodied in Article 10 (...).
91. The Court must also ascertain whether the domestic authorities struck a fair balance between, on the one hand, the protection of freedom of expression as enshrined in Article 10, and, on the other hand, the protection of the reputation of those against whom allegations have been made, a right which, as an aspect of private life, is protected by Article 8 of the Convention (...). That provision may require the adoption of positive measures designed to secure effective respect for private life even in the sphere of the relations of individuals between themselves (...)."
II. APPLICATION OF ARTICLE 41 OF THE CONVENTION
"If the Court finds that there has been a violation of the Convention or the Protocols thereto, and if the internal law of the High Contracting Party concerned allows only partial reparation to be made, the Court shall, if necessary, afford just satisfaction to the injured party."
A. Damage
B. Costs and expenses
C. Default interest
FOR THESE REASONS, THE COURT
(a) that the respondent State is to pay the applicant, within three months from the date on which the judgment becomes final in accordance with Article 44 § 2 of the Convention, EUR 2,583 (two thousand five hundred and eighty-three euros) in respect of costs and expenses, plus any tax that may be chargeable;
(b) that from the expiry of the above-mentioned three months until settlement simple interest shall be payable on the above amount at a rate equal to the marginal lending rate of the European Central Bank during the default period plus three percentage points;
Done in English, and notified in writing on 30 November 2006, pursuant to Rule 77 §§ 2 and 3 of the Rules of Court.
Vincent Berger Boštjan M. Zupančič
Registrar President
In accordance with Article 45 § 2 of the Convention and Rule 74 § 2 of the Rules of Court, the following joint dissenting opinion of Mr Zagrebelsky and Mrs Berro-Lefèvre is annexed to this judgment.
B.M.Z.
V.B.
JOINT DISSENTING OPINION OF JUDGES ZAGREBELSKY AND BERRO-LEFÈVRE
(Translation)
1 To our great regret, we are unable to agree with the Court's conclusion that there has been a violation of Article 10 of the Convention.
2 This case concerns a lawyer's freedom of expression and focuses on statements made by him during a radio interview, and subsequently reported in the press, in the context of a dispute between two private parties.
The Court has concluded that the Disciplinary Appeals Tribunal's decision was based on an inadequate assessment of the relevant facts, and that the applicant could not therefore be blamed for having overstepped the limits of acceptable professional behaviour.
3 The Court has always taken a careful approach to restrictions on lawyers' freedom of expression in judicial proceedings, and has considered that this freedom must remain compatible with the contribution that lawyers are expected to make to maintaining confidence in the public administration of justice (see Schöpfer v. Switzerland, judgment of 20 May 1998, Reports of Judgments and Decisions 1998 III, pp. 1052-53, § 29; and Kyprianou v. Cyprus [GC], no. 73797/01, § 173, ECHR 2005 ...). In this context, it has considered that lawyers' specific status gives them a central position in the administration of justice as intermediaries between the public and the courts, which explains both the usual restrictions on the conduct of members of the Bar and the monitoring and supervisory powers vested in the various Bar councils (see Casado Coca v. Spain, judgment of 24 February 1994, Series A no. 285 A, p. 21, § 54; and Nikula v. Finland, no. 31611/96, § 45, ECHR 2002 II).
4 We do not consider these references to lawyers' rights and obligations to be relevant in the case before us, however, since the applicant was speaking on a radio broadcast – and, admittedly, making use of his status as a lawyer – rather than in the context of any judicial proceedings. It would therefore appear that he was bound, not only by the inherent limits on freedom of expression that would apply to any individual, but also, given the professional capacity on which he relied, by the ethical rules imposed on its members by each Bar (cf. the above-cited case-law).
5 In addition, although the Court may be required to show tolerance with regard to the limits of acceptable criticism, which are wider with regard to a politician (see Oberschlick v. Austria (no. 2), judgment of 1 July 1997, Reports 1997 IV, p. 1275, § 29), this was not the situation in this case, given that the applicant's comments referred to an ordinary citizen.
6 In the first place, the applicant gave his radio interview on 28 November 2001. His clients, the K. family, who had been accused in 2000 by a third party, Ms A.K., did not bring proceedings for compensation against Mr Kieft until 13 October 2005.
Thus, the applicant first attacked Mr Kieft publicly more than four years before an action was even was brought against him by the applicant's clients.
7 Secondly, and to put it mildly, the applicant did not show moderation in his tone and vocabulary.
In this connection, and referring to Mr Kieft, he stated:
"Someone like that shouldn't, should not be allowed to be a therapist surely? That man, he lives in North Holland province, he should, er, grow cabbages for the market ... He should go and grow cabbages out there, but he should absolutely not be working with... patients ..."
and
"... I just can't imagine how anyone can be so presumptuous as to tell two vulnerable old people, like some sort of guru, and, er, his truth ..."
Those remarks, while explicable in the context of the serious and sordid accusations previously made against the K. family, represent, in our opinion, criticisms which amount to a purely personal attack, and were solely intended to discredit Mr Kieft's reputation as a professional practitioner.
Unlike the majority, we do not believe that the particular context of the case enables one to consider that statements such as those made by the applicant may not be grounded in fact, or that the Disciplinary Appeals Tribunal erred in its assessment of the relevant facts. Far from being classifiable as merely the expression of an opinion, the terms used amounted to insults - which, incidentally, were unnecessary to support the applicant's argument - and were used solely for the purpose of publicly denigrating the person concerned.
8 Finally, and thirdly, we note that the sanction imposed on the applicant, namely an admonition, is not at all a heavy one, and merely results in a statement of principle by the disciplinary authority.
9 Everyone is aware that, in the courtroom, a lawyer may occasionally use virulent language and take a totally subjective view; parties to proceedings may thus expect to be subjected to sharp criticism. In this connection, a number of Council of Europe member States grant immunity with regard to statements made by a lawyer when representing his or her client before a court. Such immunity is linked to his or her obligation to defend the client's interests.
In the instant case, however, the criticism in question, part of which is in the nature of abuse, was made outside the courtroom and referred to a private individual.
We consider it particularly problematic, and even dangerous, to permit a lawyer to heap opprobrium on an individual, whoever he or she is, outside the context of judicial proceedings.