European Court of Human Rights
---
You are here:
BAILII
>>
Databases
>>
European Court of Human Rights
>> SUFI and ELMI v. THE UNITED KINGDOM - 8319/07 [2011] ECHR 1045 (28 June 2011)
URL:
http://www.bailii.org/eu/cases/ECHR/2011/1045.html
Cite as: [2011] ECHR 1045, [2011] ECHR 8319/07, [2011] Crim LR 882, (2012) 54 EHRR 9
---
[
New search
] [
Contents list
] [
Printable RTF version
] [
Help
]
---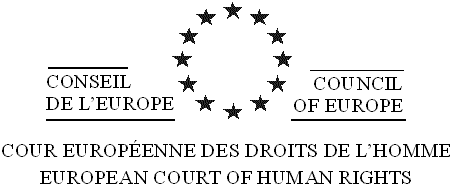 FOURTH SECTION
CASE OF SUFI and ELMI v. THE UNITED KINGDOM
(Applications nos. 8319/07 and 11449/07)
JUDGMENT
STRASBOURG
28 June 2011
This judgment will become final in the circumstances set out in Article 44 § 2 of the Convention. It may be subject to editorial revision.
TABLE OF CONTENTS
Page
In the case of Sufi and Elmi v. the United Kingdom,
The European Court of Human Rights (Fourth Section), sitting as a Chamber composed of:
Lech Garlicki, President,
Nicolas Bratza,
Ljiljana Mijović,
Sverre Erik Jebens,
Päivi Hirvelä,
Ledi Bianku,
Vincent A. De Gaetano, judges,
and Fatoş Aracı, Deputy Section Registrar,
Having deliberated in private on 14 June 2011,
Delivers the following judgment, which was adopted on that date:
5. On 23 February 2007 and 26 March 2007 the Acting President of the Fourth Section decided to give notice of the applications to the Government. It was also decided to rule on the admissibility and merits of the applications at the same time (Article 29 § 1).
6. The applicants and the Government each filed observations on the admissibility and merits of the case (Rule 59 § 1).
8. The applicants and the Government each filed further observations in October 2010.
9. The Chamber decided to join the applications (Rule 42 § 1).
I. THE CIRCUMSTANCES OF THE CASE
II. RELEVANT DOMESTIC LAW AND PRACTICE
"When a human rights or asylum claim has been refused and any appeal relating to that claim is no longer pending, the decision maker will consider any further submissions and, if rejected, will then determine whether they amount to a fresh claim. The submissions will amount to a fresh claim if they are significantly different from the material that has previously been considered. The submissions will only be significantly different if the content:
(i) had not already been considered; and
(ii) taken together with the previously considered material, created a realistic prospect of success, notwithstanding its rejection."
III. RELEVANT EUROPEAN UNION LAW
"Article 15(c) of the Directive, in conjunction with article 2(e) of the Directive, must be interpreted as meaning that the existence of a serious and individual threat to the life or person of an applicant for subsidiary protection is not subject to the condition that that applicant adduce evidence that he is specifically targeted by reason of factors particular to his personal circumstances, and the existence of such a threat can exceptionally be considered to be established where the degree of indiscriminate violence characterising the armed conflict taking place ... reaches such a high level that substantial grounds are shown for believing that a civilian, returned to the relevant country or as the case may be, to the relevant region, would, solely on account of his presence on the territory of that country or region, face a real risk of being subject to that threat."
IV. RELEVANT PRINCIPLES OF INTERNATIONAL PROTECTION
V. RELEVANT INFORMATION ABOUT SOMALIA
1. The Transitional Federal Government
2. African Union Mission in Somalia (AMISOM)
A. NM and others (Lone women – Ashraf) Somalia CG [2005] UKAIT 00076
B. HH & Others (Mogadishu: armed conflict: risk) Somalia CG [2008] UKAIT 00022
C. AM & AM (armed conflict: risk categories) Somalia CG [2008] UKAIT 00091
"indiscriminate bombardment of civilian areas; indiscriminate use of roadside bombs and mortars from and in civilian areas; indiscriminate shooting in response to roadside bombs; arbitrary arrest and detention of civilians, including children; forced evictions; forced recruitment, including of children; sexual and gender based violence; intimidation and assassination of journalists, aid workers and civilian officials; and extra-judicial killings."
"the movements of population out of Mogadishu in the past two years have been unprecedented. UN sources have estimated (at various times) that 400,000, up to as many as 750,000 (or around one third to a half), of the population of Mogadishu have been displaced. An 8 April 2008 Voice of America report states that two thirds of Mogadishu has been turned into an urban battleground. Since the beginning of 2008 there have been significantly fewer returns. Whatever the precise figures, it is clear that the ongoing violence has forced substantial numbers to flee the city more than once and flight seems an ongoing process: the IRIN report of 29 September 2008 cites Elman estimates that 18,500 people recently fled their homes due to the fighting and shelling (COIS, A 4). The COIS Reply dated 24 October 2008 states that: "[a]ccording to the UNHCR an estimated 5,500 people were displaced from the city during the week and over 61,000 since 21 September 2008". Armed clashes have increasingly destroyed housing, market areas (Bakara market has been deliberately shelled) and infrastructure and the recent closure of the airport is likely to make matters in Mogadishu worse. According to Grayson and Munk, the aid community has been largely ineffective in providing the necessary aid to those who have stayed in Mogadishu (Nairobi evidence 65). They also state that Mogadishu is a "ghost town" and that only the most vulnerable remain there."
"The airport is one of the facilities patrolled by AMISON troops (COIS, 27.13). According to Somalia Humanitarian Overview, September 2008, normally at least 5 commercial flights arrive and depart on a weekly basis to and from the rest of Somalia, Kenya, Djibouti and Dubai. The COIS Reply of 24 October 2008 notes that it is expected in the next month or so that thousands will leave via MIA to perform Haj in Saudi Arabia. At the time of HH, the airport was fully operational with flights arriving and departing regularly. However in 2008 the situation has been unsettled. There were attacks of some kind in January 2008 and the downing of a plane by a missile in March 2008 (COIS, 27.13). The airport was attacked by insurgents on 1 June 2008 as the President's plane left for talks in Djibouti. On 14 September 2008 a group identifying themselves as Al Shabab threatened to shut the airport down, although a counter-report from Union of Islamic Courts said that the Islamist forces did not intend to close it. It was closed on 16 September. On 28 September there were mortar attacks on it upon the arrival of an AMISON military plane (COIS, A.2). A Press TV cutting dated 2 October 2008 states that 5 heavy mortars landed inside MIA injuring a number of soldiers. The assailants apparently targeted a plane trying to land. A COIS Reply dated 15 October 2008 reports an Al Shabab source as saying that on 9 October a civilian plane carrying 120 Somali deportees from Saudi Arabia managed to land without incident. A 13 October press report refers to several mortar attacks on the airport. We were told by the respondent at the outset of the hearing that removals to Somalia were temporarily suspended because of travel documentation problems, but it may well be, in the light of these recent developments, that for the immediate future at least, there would be difficulties in ensuring safe arrival in any event."
D. HH (Somalia), AM (Somalia), J (Somalia) and MA (Somalia) v Secretary of State for the Home Department [2010] EWCA Civ 426
E. AM (Evidence – route of return) Somalia [2011] UKUT (IAC)
F. Judgment of 24 February 2011 (UM 10061-09) of the Swedish Migration Court of Appeal (Migrationsöverdomstolen)
79. The Swedish Migration Court of Appeal, which is the court of final instance in immigration cases, found that a situation of internal armed conflict existed throughout the whole of southern and central Somalia which was sufficiently serious to expose the Somali applicant to a risk of serious harm, even though he could not demonstrate that he would be specifically targeted. The court had regard to many reports which indicated that the fighting had increased in recent months and that the situation had become very unstable and unpredictable. Moreover, due to the worsening security situation, the presence of the United Nations and other international organisations had decreased and, as a consequence, detailed and updated information was hard to come by. Although the safety level in Somaliland and Puntland was considered to be acceptable, a Somali returnee could only gain admittance to those areas if he was seen as belonging or having another connection to them. As that was not the case with the applicant, the court concluded that he could not internally relocate and that he should thus be given a residence permit and subsidiary protection in Sweden.
VII. RELEVANT COUNTRY INFORMATION
A. United Kingdom Government Reports
1. Somalia: Report of Fact-Finding Mission to Nairobi,
8 – 15 September 2010
2. United Kingdom Border and Immigration Agency Operational Guidance Note
98. Operational Guidance Notes ("OGNs") are produced by the Border and Immigration Agency of the Home Office. They evaluate the general, political and human rights situation in a country and provide guidance on the nature and handling of the most common type of claim.
"Al-Shabaab currently controls much of southern and central Somalia, including large portions of Mogadishu. The Transitional Federal Government has maintained control of a few areas in the south east of the city, government installations, the Presidential palace and strategic locations such as the airport and seaport. Al-Shabaab controls large portions of Mogadishu including the north and north-east parts of the city, the main stadium and the main market. It controls nearly all of Middle and Lower Jubba regions, Gedo region, Bay region, Bakool region, and parts of Lower Shabelle region. This includes control of the key port cities of Kismayo and Marka and the Kenya border town of Diif. It also wields significant influence in Middle Shabelle and Hiraan region.
The human rights situation has deteriorated particularly in areas controlled by
al-Shabaab and allied extremist groups. Al-Shabaab and other armed groups have continued to violate women's rights in southern and central Somalia. Women face arbitrary detention, restriction of movement and other forms of abuse for failure to obey orders, including non-observance of dress codes. There is a rising pattern of inhuman and degrading treatment, including stoning, amputations, floggings and corporal punishment. Men too are subjected to inhuman and cruel treatment for their illicit relationship with women and other offences such as 'spying'. Journalists have been repeatedly subjected to threats and short-term arbitrary detentions, particularly in Baidoa and Kismayo. Al-Shabaab has increasingly targeted civil society groups, peace activists, media and human rights organisations. Humanitarian assistance has been severely hampered by the prevailing insecurity and threats specifically targeting humanitarian agencies. In southern and central Somalia there is evidence that children are being exposed to recruitment into armed forces by all parties to the conflict."
B. United States' Government Reports
1. Department of State Country Report on Human Rights Practices, Somalia, 2009 (11 March 2010)
2. "Somalia: Current Conditions and Prospects for a Lasting Peace", Congressional Research Service, 16 December 2010
C. The Norwegian Directorate of Immigration Country of Origin Centre Somalia: Security and Conflict in the South (23 August 2010)
"Monitoring the human rights situation in south and central Somalia remains very difficult due to the serious constraints on gathering information owing to security conditions. The independent expert was himself unable to visit the region. Nevertheless, major human rights concerns have been documented and the independent expert remains deeply concerned at the deterioration of the situation."
1. The UN Secretary-General's Reports
125. In the Secretary-General's report of 9 November 2010 on children and armed conflict in Somalia, he noted that civilians, including children, continued to be the majority of casualties in Somalia, primarily as a result of being caught in the crossfire between the parties to the conflict, shelling and explosions. During 2009 3.64 million people, including approximately 1.8 million children, relied on humanitarian assistance. However, food supplies remained disrupted, access to clean water and medical assistance hindered, and hospitals were stretched to capacity. As from January 2010, food distribution by the World Food Programme was disrupted in all areas controlled by al-Shabaab.
2. Report of the independent expert on the situation of human rights in Somalia, Shamsul Bari (16 September 2010)
3. United Nations High Commissioner for Refugees (UNHCR): Eligibility Guidelines for Assessing the International Protection Needs of Asylum-Seekers from Somalia ("the Eligibility Guidelines"), 5 May 2010
E. Non-Governmental Organisations' Reports
1. Amnesty International: No End in Sight – The Ongoing Suffering of Somalia's Civilians (25 March 2010)
"no party to the conflict appears to take the necessary precautions to avoid loss of civilian life and injury, despite their obligations to do so under international humanitarian law. Civilians are often caught up in shelling and cross-fire by all parties to the conflict, resulting in death and injury to thousands. The fighting has provoked massive displacement within and outside cities in south and central Somalia and disruption of access to humanitarian aid, which are already curtailed by insecurity and the targeting of aid workers. Civilians living in areas controlled by armed opposition groups are also increasingly subject to abduction, torture and unlawful killings."
"There are near weekly incidents of fighting and shelling between armed opposition groups on one side and Transitional Federal Government forces and AMISOM troops on the other side, and near weekly reports of civilian deaths and injuries as a result. Armed opposition groups continue to launch attacks from areas inhabited or frequented by civilians in Mogadishu, endangering the lives of civilians. They fire mortars and heavy artillery in the direction of Transitional Federal Government and AMISOM bases, near which civilians live. Transitional Federal Government and AMISOM forces are repeatedly accused of responding by firing mortars and using other artillery weapons in the direction of the attackers. All sides to the conflict use mortars and other heavy artillery, weapons which are inherently indiscriminate when used in densely populated urban areas. Some sources have even alleged to Amnesty International that AMISOM is firing BM or "Katyusha" rockets when responding to attacks by armed opposition groups. These attacks and counter-attacks invariably result in civilian deaths and injuries."
"On 11 October 2009, Hizbul Islam in the Banadir region asked all humanitarian organisations operating in areas under their control to register within 15 days and pay a registration fee by 25 October, whilst al-Shabab in the Juba region renewed their ban against any agency wishing to operate in the region, stating "We want our people to work for their life rather than depending on food aid."
In November, al-Shabaab in Bay and Bakool regions issued a list of 11 conditions which humanitarian organisations were required to adhere to in order to continue their work in the regions. These conditions reportedly included replacing all female staff members with men within three months, an agreement not to encourage secularism or democracy in their work and a payment of $20,000 US dollars every six months to the al-Shabaab administration. This was followed on 25 November by an al-Shabaab statement ordering the World Food Programme (WFP) to immediately cease the import of relief food to the country, accusing the organisation of acting as a barrier to self-sufficiency. All local businesspeople were ordered to terminate their contracts with the WFP and the organisation was ordered to empty their warehouses and
food-stocks by 1 January 2010."
2. Amnesty International Briefing Paper, 18 October 2010
148. The African Union recently signalled its intention to increase the number of AMISOM troops to 8,000 and Amnesty International believed that when this happened it was likely to result in more attacks against the force by armed Islamist groups and more retaliatory shelling by AMISOM.
149. The report noted that the fighting had also caused the destruction of homes, the separation of families during chaotic flight, and massive displacement. UNHCR estimated that 42,400 people had been displaced from within and around Mogadishu since 23 August 2010, some 25,400 having fled Mogadishu and about 17,100 others having moved to different parts of the city.
150. Al-Shabaab had also been seizing cities elsewhere in southern and central Somalia. In particular, there had been clashes in and around Kismayo, Dhusamareb, Beletweyne and Dobley. As a result, 29,000 civilians had been displaced from Dhusamareb and 25,000 had been displaced from Beletweyne. In addition to the fighting, al-Shabaab had also severely restricted humanitarian access in most of southern and central Somalia, putting civilians at risk. According to the report, humanitarian access in southern Somalia was at its lowest since the end of 2006.
3. Amnesty International – From Life Without Peace to Peace Without Life
4. Human Rights Watch: Harsh War, Harsh Peace
"Al-Shabaab exerts enormous control over personal lives and devotes remarkable energy to policing and penalizing conduct that it deems idle or immoral. Almost no detail is too minute to escape the group's scrutiny. In many areas, al-Shabaab administrators have banned public gatherings, dancing at weddings, musical ringtones on cell phones, western music, and movies. They have outlawed qat chewing and cigarette smoking. They have barred men from shaving their beards and moustaches, or wearing long hair or long trousers. They have refused to allow people on the streets during prayer times.
In many areas, al-Shabaab patrols break up public gatherings, no matter how small, unless they are the organizers. Frequently, al-Shabaab justifies the dispersals on the grounds that participants are engaged in 'idle' or 'useless' activity, a concept that is arbitrarily applied and often includes everything from playing soccer to talking among friends. 'If they find a group of people talking, they may just beat them and tell them to go and do something useful', said one man from the border village of El Wak.
One young man from Kismayo said he watched an al-Shabaab patrol throw a group of teenage boys in jail one evening for playing Scrabble:
'They said this was idle activity. They took them away and jailed them overnight and shaved some of their heads with a razor blade or a broken bottle. One of them was injured from the shaving. They won't even let people gather to listen to the BBC, or to smoke tobacco.'"
5. Human Rights Watch: World Report 2010
6. Human Rights Watch – "Welcome to Kenya": Police Abuse of Somali Refugees
7. International Displacement Monitoring Centre – Somalia: Political and security crises, access limits and donor cuts increasing IDP vulnerability (10 December 2009)
8. The World Food Programme ("WFP)"
"Rising threats and attacks on humanitarian operations, as well as the imposition of a string of unacceptable demands from armed groups, have made it virtually impossible for the World Food Programme (WFP) to continue reaching up to one million people in need in southern Somalia.
WFP's humanitarian operations in southern Somalia have been under escalating attacks from armed groups, leading to this partial suspension of humanitarian food distributions in much of southern Somalia.
WFP's offices in Wajid, Buale, Garbahare, Afmadow, Jilib and Beletweyne in southern Somalia are temporarily closed, and food supplies and equipment have been moved, along with staff, to safer areas in order to ensure that food assistance continues to reach as many vulnerable people as possible."
"... 42% of the population, or an estimated 3.2 million people, in need of emergency humanitarian assistance and/or livelihood support until June 2010. The results indicate that although there are some positive indicators in terms of the lifting of the livestock export ban and improved crop and livestock production in southern parts of the country, the food security and nutrition situation in central regions remains in crisis, where 70% of the population require assistance. The situation is exacerbated by escalating conflict and displacements, creating a double burden for drought affected populations in central regions, having to support those recently displaced yet with reduced access to assistance from aid agencies due to the insecurity.
Emergency levels of acute malnutrition continue to be reported, with 1 in 6 children in Somalia acutely malnourished and in need of specialist care. Of these children, 1 in 22 is severely malnourished and at a 9 times increased risk of death compared to well-nourished children. However, in south and central Somalia the rates are higher, with 1 in 5 children acutely malnourished of which 1 in 20 is severely malnourished. These national rates of acute malnutrition continue to be amongst the highest in the world. Currently, these rates translate into estimated 240,000 children under 5 years of age in Somalia being acutely malnourished, of which 63,000 are severely malnourished. More than two thirds of these children are located in south and central Somalia, the areas most affected by the current conflict. The people currently in crisis include 1.25 million rural people affected by drought, 580,000 urban people who struggle with very high food and non-food prices, and 1.39 million internally displaced people (IDPs) who are fleeing from the conflict."
9. Médicins Sans Frontières (MSF)
"In 2009, the Somali population continued to fall victim to indiscriminate violence, while severe drought plagued parts of the country. Millions of people urgently require health care, yet the enormous gap between the needs of Somalis and the humanitarian response on the ground continues to widen. Ongoing abductions and killings of international and Somali aid workers is thwarting the efforts of humanitarian organizations to respond, and the public health-care system remains in near total collapse.
...The impact of such high levels of violence and insecurity stretches far beyond MSF's surgical units, contributing to a general lack of access to basic lifesaving medical care countrywide. MSF's ability to provide assistance was further diminished when in April two MSF staff members were abducted in Huddur in Bakool region leading to the closure of its largest health centre in south and central Somalia and four other health posts. In June an MSF employee died in an explosion in Belet Weyne, Hiraan region, which killed 30 other people. In July, the heightened insecurity forced MSF, for the first time in 17 years, to close activities in its pediatric hospital and three other health clinics in northern Mogadishu as staff were forced to flee for their own safety.
Another major challenge is the lack of qualified medical staff in Somalia, with so many health workers among those who have fled the violence and no medical universities open. In December 2008, there was a ray of hope with the graduation of 20 doctors from Benadir University in Mogadishu—the first graduating class of new physicians in two decades. This hope was short-lived with the bombing of the next graduation ceremony on December 3, 2009, killing 23 people, mostly graduates, and wounding more than 50 others.
The lack of free medical care available throughout the country exacerbates the health issues people face as a result of chronic poverty and this year's severe drought. Although little reliable data is available at the national level, health-care indicators in Somalia are among the worst in terms of immunization, maternal mortality, malnutrition and access to basic health care services. According to the World Health Organization, women have a one in ten lifetime risk of dying during pregnancy or childbirth. One in five children under the age of five is acutely malnourished."
195. On 17 February 2011 UN News Centre reported that severe drought in Somalia was once again exacerbating the humanitarian crisis with more people becoming internally displaced and others moving into refugee camps across the border in Kenya. Malnutrition rates among children, already above emergency levels in Somalia, had risen and an estimated 2.4 million people – 32 per cent of the country's 7.2 million people – were in need of relief aid.
I. ALLEGED VIOLATION OF ARTICLES 2 AND 3 OF THE CONVENTION
"Article 2
1. Everyone's right to life shall be protected by law. No one shall be deprived of his life intentionally save in the execution of a sentence of a court following his conviction of a crime for which this penalty is provided by law.
...
Article 3
"No one shall be subjected to torture or to inhuman or degrading treatment or punishment."
They further complained that their removal would constitute a disproportionate interference with their rights under Article 8 of the Convention, which provides:
"1. Everyone has the right to respect for his private and family life, his home and his correspondence.
2. There shall be no interference by a public authority with the exercise of this right except such as is in accordance with the law and is necessary in a democratic society in the interests of national security, public safety or the economic well-being of the country, for the prevention of disorder or crime, for the protection of health or morals, or for the protection of the rights and freedoms of others."
210. The Court therefore also rejects the Government's submission that the second applicant failed to exhaust an effective domestic remedy by failing to apply for reconsideration of the Tribunal's decision.
211. Finally, the Court recalls that the Government have also submitted that the applicants' complaints are manifestly ill-founded. The Court considers that this submission raises questions which are closely linked to the merits of the case. It will therefore deal with that submission in its examination of the merits below. It further notes that the application is not inadmissible on any other grounds. It must therefore be declared admissible.
1. General principles applicable in expulsion cases
2. The relationship between Article 3 of the Convention and article 15(c) of the Qualification Directive
(a) The parties' submissions
(b) The Court's assessment
3. The weight to be attached to the report of the fact-finding mission to Nairobi (see paragraph 80, above)
(a) The parties' submissions
(b) The Court's assessment
4. The security situation in Mogadishu
(a) The parties' submissions
(b) The Court's assessment
5. Conditions in southern and central Somalia (outside Mogadishu)
(a) The parties' submissions
(b) The Court's assessment
α. The internal flight alternative
β. The risk in transit or upon settling elsewhere in southern and central Somalia
γ. Humanitarian conditions in refugee and IDP camps
281. The Court recalls that N. v. the United Kingdom concerned the removal of an HIV-positive applicant to Uganda, where her lifespan was likely to be reduced on account of the fact that the treatment facilities there were inferior to those available in the United Kingdom. In reaching its conclusions, the Court noted that the alleged future harm would emanate not from the intentional acts or omission of public authorities or non-State bodies but from a naturally occurring illness and the lack of sufficient resources to deal with it in the receiving country. The Court therefore relied on the fact that neither the applicant's illness nor the inferior medical facilities were caused by any act or omission of the receiving State or of any non-State actors within the receiving State.
6. Summary of the Court's conclusions
7. Application of the aforementioned principles to the applicants' cases
(a) The first applicant
α. The parties' submissions
β. The Court's assessment
(b) The second applicant
α The parties' submissions
β. The Court's assessment
II. APPLICATION OF ARTICLE 41 OF THE CONVENTION
"If the Court finds that there has been a violation of the Convention or the Protocols thereto, and if the internal law of the High Contracting Party concerned allows only partial reparation to be made, the Court shall, if necessary, afford just satisfaction to the injured party."
314. The applicants made no claim in respect of pecuniary and
non-pecuniary damage.
III. RULE 39 OF THE RULES OF COURT
FOR THESE REASONS, THE COURT UNANIMOUSLY
(a) that the respondent State is to pay the first applicant, within three months from the date on which the judgment becomes final in accordance with Article 44 § 2 of the Convention, EUR 14,500 (fourteen thousand five hundred euros), plus any tax that may be chargeable, in respect of costs and expenses, to be converted into British pounds at the rate applicable at the date of settlement;
(b) that the respondent State is to pay the second applicant, within three months from the date on which the judgment becomes final in accordance with Article 44 § 2 of the Convention, EUR 7,500 (seven thousand five hundred euros), plus any tax that may be chargeable, in respect of costs and expenses, to be converted into British pounds at the rate applicable at the date of settlement;
(c) that from the expiry of the above-mentioned three months until settlement simple interest shall be payable on the above amounts at a rate equal to the marginal lending rate of the European Central Bank during the default period plus three percentage points;
Done in English, and notified in writing on 28 June 2011, pursuant to Rule 77 §§ 2 and 3 of the Rules of Court.
Fatoş Aracı Lech Garlicki Deputy Registrar President
Map provided by the Cartographic Section of the Departments of Peacekeeping Operations and Field Support in UNHQ